Social and Economic Impacts
Barwon South West Region Assets Snap Shot
Population: >400,000 of which >60% live in Geelong.
Age profile: Two main age groups 0-24 and 35-59 year olds.
Major economic drivers: Agriculture is the dominant land use, and tourism is a major economic driver along the coast.
Major natural assets: The Great Ocean Road, Great Otway National Park, Ramsar listed wetlands of the Corangamite area, the surf coast and Southern Grampians.
Major regional centres: Home to Victoria's largest provincial centre, Geelong and coastal communities including Torquay Apollo Bay, Port Fairy, Portland, and Warrnambool.
Agricultural Impacts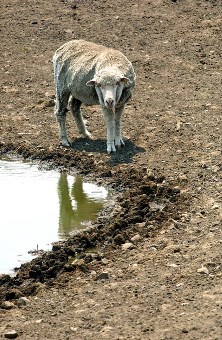 The Barwon South West is Australia's largest dairy production region. As the climate changes, agricultural zones could shift.
Some primary producers in the central part of the region (inland of Port Campbell) may experience an increase in productivity due to longer growing seasons and increased carbon dioxide concentrations, while others may experience a decline due to more frequent extreme events such as heatwaves and heavy rainfall.
Different agricultural industries across the region will be affected by climate change to varying degrees. For example:
As the region becomes warmer and drier, the dairy industry may face challenges with farmers being forced to switch to grain feeding their herds, which will consequently lead to lower cattle weights and milk yields. This could lead to a loss of employment opportunities in the region.
An opportunity exists for farmers to switch to cropping as it becomes a more viable agricultural activity in traditional dairying areas.
As the region becomes warmer and drier the forestry industry may face challenges with declining yields through less and/or lighter logs being produced. This will negatively impact communities and the local economy through job losses. There is also a greater risk of plantation being destroyed through bushfire.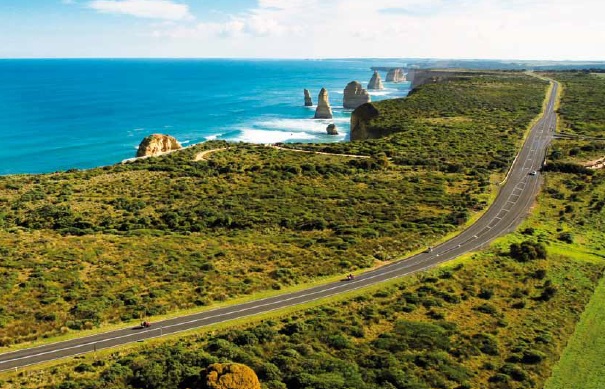 Impacts on Built Infrastructure
Important built assets and infrastructure such as the deep water port at Portland, and natural assets along the region's expansive coastline may be at risk due to sea level rise, coastal erosion and inundation. Areas most vulnerable to inundation are generally beach fronts, low-lying wetlands and coastal reserve areas, including Portland, Port Fairy and Barwon Heads.
Inundation of natural and built assets throughout the region could have complex and wide-reaching implications, particularly if this occurs along the Great Ocean Road or other key transport links, such as the Princes Highway, Hamilton Highway and Glenelg Highway. The region also has a standard gauge rail network linking Geelong to other major centres and the Avalon Airport near Geelong which has obtained approval to support international services. There are established industrial centres at Geelong, Warrnambool and Portland. Bulk ports in Geelong and Portland enable the region to process and handle oil, grain, woodchips, alumina, mineral sands and fertiliser. Major health and educational facilities such as Deakin and RMIT universities and other vocational colleges are located throughout the region.
Supporting these regional assets are a range of assets owned or managed by local government. These include roads, bridges, piers, buildings, public open space, public lighting, street trees and stormwater management infrastructure. The provision of these assets and infrastructure is often a statutory requirement (e.g. roads under the Road Management Act) required to support a vibrant and prosperous community.
In recent years a number of studies have studies have concluded the general condition of some of these assets has declined (particularly roads), due to funding shortfalls and increased usage pressures. Although challenging, councils are working with other government authorities to address this issue.
Examples of potential impacts of climate change on built infrastucture throughout the region include:
Increased heat events will lead to higher rates of deterioration of buildings and built assets which will result in higher maintenance costs for roofing, cladding, window and other systems.
Inundation of valuable natural coastal assets along the Great Ocean Road may have implications for recreation and tourism.
An increase in the severity of rainfall events that will lead to localised flooding, resulting in inundation infrastructure and increased maintenance and repair costs. This will result in disruption to services and damage/blocking of drainage sewerage systems and contamination of waterways. Additionally, these events will increase the risk of landslides occurring, affecting road and drainage infrastructure.
A decrease in mean rainfall will lead to reduced environmental flows and impacts on infrastructure integrity and performance (drainage pipes crack in low flows) causing increased maintenance and upgrade costs.
Sea level rise and storm surge will result in the erosion of coastal assets (including marinas and boat ramps) and direct flooding. This will have a direct impact on road and drainage infrastructure. Risks also exist to retired landfill sites and septic tanks, with resent examples where these have been exposed during extreme weather events.
All-Sector Impacts
Long-term changes in rainfall patterns may also increase water competition between industry sectors. The knock-on effects can change the regional economy with implications for regional demographics, local businesses and regional towns and centres.
Changes to land uses arising from a changing climate may exacerbate competition between different agricultural land-uses and urban development pressures, particularly in the fertile and well-watered areas surrounding Port Fairy and Warrnambool.